Details

Created: 28 October 2013
Hits: 1528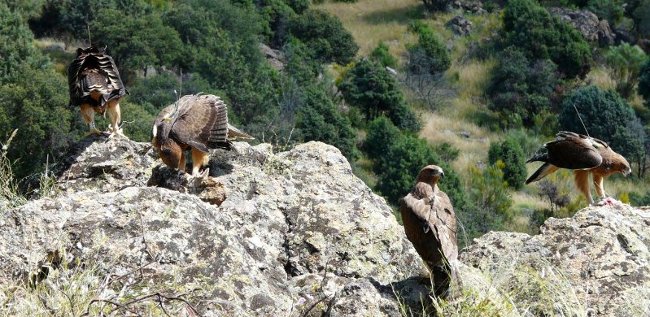 This aim of this project is to restore the population of the Bonelli's Eagle (Hieraætus fasciatusor Aquila fasciata) by joining forces with various Bonelli's Eagle Recovery Projects in various populations located across the Iberian Peninsula and the Balearic Islands. The recovery of this species will be carried out by increasing their numbers in Madrid, Navarra and Alava, as well as its reintroduction in Mallorca. This species is listed in Annex I of the EU Birds Directive 2009/147/EC and in Appendix II of the Bern, Bonn & CITES Conventions, with different conservation ranks at regional, national and European levels.
This is the first time that a project establishing specific conservation measures has been developed in a variety of core populations. The project considers the "metapopulation" of the northwest of Spain and the south of France to be a unique population and studies the relationships between the different populated cores of which it consists. Spain maintains 65% of the European population, and therefore the consolidation of the species in this zone is imperative in order to maintain the population level in Europe and the reason for which the results should be exported to other regions.
In order to achieve this objective, specific targets must be set, such as:
1· Reducing the number of collisions and electrocutions in areas where this problem is a limiting factor as well as in newly identified areas.
2· Creating favourable living conditions in the new nesting areas by eliminating dangers and risks, anticipating large-scale changes in weather, and maintaining and improving the prey species.
3· Maintaining an international stock of breeding pairs in captivity to optimise resources and maintain genetic variability.
For this, a committee that encompasses the central aspects of the recovery of the species has been created: The public administrations of the four regions where the species will be recovered (Navarra, Balearic Islands, Alava and Madrid), the only two European centres for captive breeding of the Bonnelli's Eagle (GREFA and LPO) and Andalusia (the main reserve for this species in Europe).